Italian Pizza Party Pack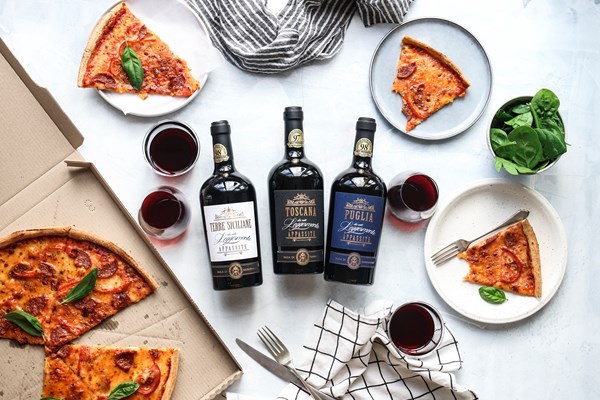 BACK BY POPULAR DEMAND!
Any way you slice it, a pizza party can not be beat — so grab a few friends, order in a few boxes, and make a night of it with this tasty Italian trio!
Exclusive to WineFriend, these three Barbanera Vini Duca di Saragnano wines have all been made in the appassimento style, which injects a hit of sweet fruit. This 3-pack won't break that bank at only $79.99 and includes a Negroamaro Primitivo from Puglia, a Syrah Cabernet Sauvignon from Sicily, and a Sangiovese Merlot Cabernet from Tuscany. Make a night of it with friends and family, seeing if you can spot the nuances between region and grape variety...
Grab the good glasses and gustare!
Customise
{{ product.TileDisplayPrice | currency }}

{{getNumberOfBottles(product)}}x {{ (getNumberOfBottles(product) == 1 ? (product.MiscellaneousProductType || 'bottle') : (product.MiscellaneousProductTypePlural || 'bottles')).toLowerCase() }}
FROM

{{ getSellPrice(product) | currency }}

/ {{getNumberOfBottles(product)}}x {{ (getNumberOfBottles(product) == 1 ? (product.MiscellaneousProductType || 'bottle') : (product.MiscellaneousProductTypePlural || 'bottles')).toLowerCase() }}
{{ product.ProductName }}
{{ product.ProductDescription }}