The WineFriend 'Perfect Pairings' series is designed to take your wine-and-food duos to the next level. We'll be tackling a smorgasbord of varietals and telling you what to pair with their unique characteristics for a truly inspired fine wine dining experience. Thanks for tuning in!
Royalty coming through! This edition of Perfect Pairings focuses on chardonnay — aka the Queen of the Grapes. The most widely planted white grape on Planet Earth, she can be wildly different stylistically depending on what the winemaker was going for, whether the wine was made using stainless steel or oak, where the grapes were grown, etc. We talked a bit about these differences in our 'If You Like This, You'll Love That' piece on chardonnay, and for the sake of simplicity, we'll use that same buttery vs. fresh distinction here while we outline which dishes are worthy of wearing a crown alongside the Queen. Let's get started!
What to pair with roasty, toasty, buttery chardonnay
Pairing a chardonnay that's gotten up close and personal with oak? These creamy, indulgent, rich royal beauties serve up luscious notes of vanilla, caramelised fruit, honey, apricot, macadamia nut, cashew — the list goes on! They generally sit a bit weightier on the body scale, making them perfect with:
Crayfish: The only thing you need to complement fatty, succulent shellfish? An equally juicy, full chardonnay. Yum.
Dishes with rich cream sauces: The creamier the sauce, the better. Pasta carbonara, fettucine alfredo, and indulgent white fish with a creamy sauce? Can't go wrong.
Pumpkin and butternut squash: The cosy flavours in pumpkin and butternut squash mirror those in oaked chardonnay for a match made in wine-and-food heaven.
Scallops: Scallops are weighty, juicy, and seriously tasty, and a full chardonnay will take these characteristics to the next level!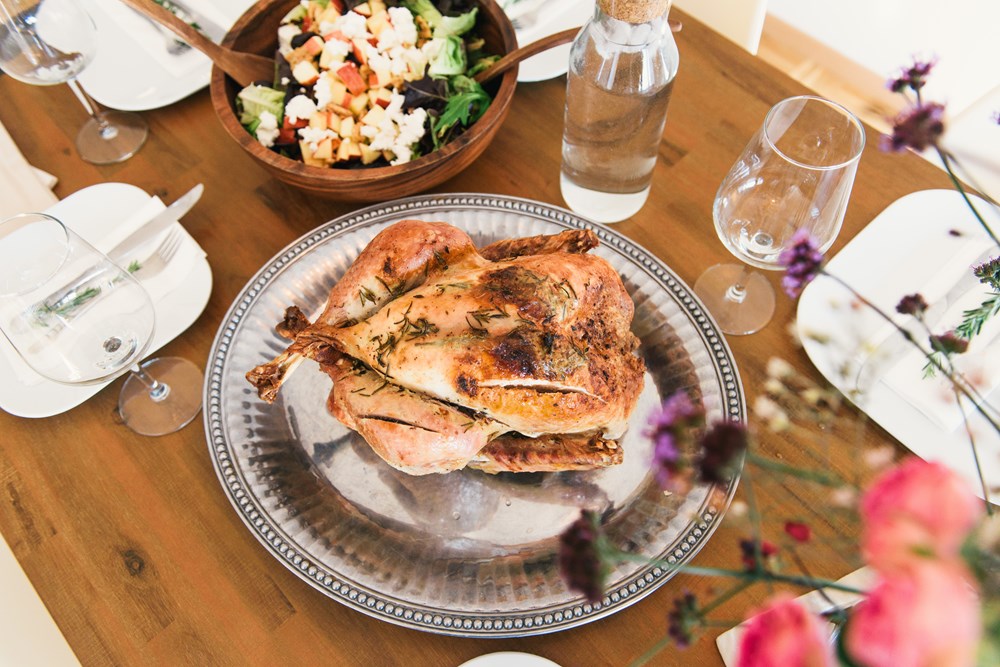 Classic roast chicken with all the trimmings: Earthy, meaty, woodsy notes meet nutty, oaky, creamy goodness. Yes, please!
Semi-hard Euro-style cheeses like Emmental, Maasdam, and Gouda (creamy and nutty as opposed to salty): Steer clear of salty cheeses when you're pairing oaked chardonnay, as that combination can result in flavours that are a bit unpleasant. Instead, opt for smoother cheeses with similar nutty notes.
White chocolate and butterscotch: Desserts dominated by buttery caramel, vanilla, and cream flavours are where it's at with oaked chardonnays. You can thank us later!
What to pair with fresher, lighter, unoaked chardonnay
Pears and peaches and apples, oh my! Chardonnay on the opposite side of the spectrum from its oaked counterparts features notes of fresh fruit alongside complex hints of spice (nutmeg, cinnamon) and sweet floral aromatics. These examples are crisp, zingy, and oh-so-scrumptious with:
Curry: While drinking an oaked chardonnay with a spicy dish is about as pleasant as stubbing your toe, bright and fresh options with mouth-puckering acidity actually work really well alongside a hotter curry.
Mexican food: Same here. Mexican dishes (especially those with a bit of a kick) find their culinary mate in an unoaked chardonnay!
Sushi: Sushi is clean, light, fresh, and bright — just like this style of the Queen. Count us in!
Fried chicken: This one seem a bit left-field? Trust us! The hint-of-sweet spice notes and juicy lines of lighter fruit in the wine will take your fried chicken to new heights.
Classic Camembert and Brie-style cheeses: Unoaked chardonnay takes particularly well to these softer cheeses. Bottoms up!
Fruit tarts or crumbles: If you're looking to pair this kind of chardonnay with a dessert, it's best to skip over the decadent, luxurious options (the ones that are chocolate-based, for example) and reach for something fruit-based.
Got any food-and-chardonnay pairings you swear by? Give us a shout on social. And join WineFriend today to discover delicious new chardonnays!